If you want to get the most out of your Ableton Live software suite and learn all the latest tips, tricks and workflow methods then this brand new online training course provides the perfect solution for you.

Ableton Courses provides both a basic/intermediate and advanced level course to support all levels of users, and the courses are delivered through a series of online video tutorials which you can access at any time, from wherever you are.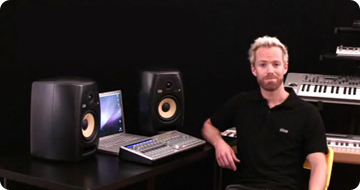 Register today for a free account and information pack, and watch a free sample module from each course today without any obligation to buy!

If you own a copy of the market leading Ableton live and want to get the most out of your software then following our video based online training courses is the solution for you. Ableton Live provides a comprehensive environment for writing, producing and performing music and we provide both a basic/intermediate and advanced course to support all levels of users to ensure you have the most up to date knowledge when using this software. Register now for a free account and download our free information pack.

Rob Jones, our Ableton Certified Instructor has designed and delivered both of our online video courses, and is available online to answer any questions and to give you feedback and tips online at our forum and directly by email.

Our Ableton Live Beginners to Intermediate and Advanced courses have been created specifically to provide you with all the information you need to utilise the power of this amazing software, and to enable you to develop your skills at a pace which suits you individually, from wherever you are in the world and during the times which suit you best. We have tutors available mon-fri to answer any questions you may have and also a forum where all users can discuss tips and tricks with other students . Each course comes with a series of downloadable course session files and you'll also get more than 700MB of free royalty free samples, along with a free Bass Station Synth, which are provided by our sponsors Loopmasters, Focusrite, KRK and Novation.

Our course have been designed and delivered by Ableton Certified trainer Rob Jones, and can be taken at any time by students looking for a truly flexible training solution to suit their lifestyle. The courses are presented online as 26 separate video modules which last between 15-20 minutes each in length, covering all aspects of setting up and negotiating the Ableton workflow process, explaining all the main principles of Audio and Midi and then going through all the stages required to truly master this powerful software. The advanced course continues where the first course leaves off and explores advanced sound design, workflows and powertips and you also get a full set of notes, course materials and even an official certificate which confirms your completion of either course, which you can add to your CV.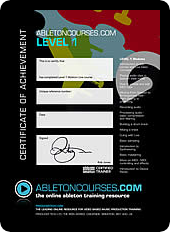 The Abletoncourses.com certificate is yours once you have completed all the modules on the course, and is authenticated with our Ableton certified logo which is recognized worldwide as a sign of quality learning

At the end of the course, students should have all the basic skills required to produce their own tracks, with the 14 modules going from the jamming stage right through to final mastering. Students are even introduced to important sound creation methods, such as sampling and synthesizing, the latter with Novation's included classic Bass Station software synth.

Also included with each course you will find over 750MB of royalty free sounds and samples from Loopmasters.com – one of the worlds leading providers of sounds from some of the top producers and artists worldwide. Full course notes and downloadable materials for each module are also provided to ensure you have everything you need to realize your potential as a modern music producer!

Please select one of the two courses below to find out more information about exactly what you will learn in each, and don't forget to register to watch your free sample module and download your free information pack!